Mitech participate in the 5th Incheon International Welding & Laser Equipment Industry Exhibition
2018-05-28
The Incheon area in South Korea has occupied the center of Korean industries such as automobiles, shipbuilding, steel, metals, harbors, and construction industries since ancient times. The exhibition was held in the Songdo Convensia exhibition hall of Incheon Songdo Convention and Exhibition Center, the largest exhibition hall in Korea. Matsushima is the first seaport city to be developed in Korea and it is also an economic free development zone. The Songdo Convensia Convention and Exhibition Center is a complete international infrastructure exhibition center with sophisticated infrastructure.
There are 150 companies from 16 countries was invited to attend the exhibition. South Korea's famous local companies, large-scale tool cutting manufacturers, precision instrument manufacturers, forged metal workpiece manufacturers, etc. The exhibition also promoted related inspection technology seminars. The purpose of this exhibition is to help South Korean UT agents to promote Mitech's NDT equipment and disseminate NDT's various inspection technologies. Mitech ultrasonic flaw detectors, magnetic particle flaw detectors, ray flaw detectors, hardness meters, and related precision instruments have all been used in the exhibition's inspection and technical seminars, attracting many testing scientists and participants. After the academic report, many visitors followed our professional UT agents to the booth to inquire about products. Our international regional manager Kathy Wu and marketing manager Lareina Li gave positive product introductions and cooperated with agents to demonstrate prototypes.
During the exhibition, many visitors expressed interest in our ultrasonic flaw detector MFD66C, magnetic particle flaw detector MT-1A, spectrometer MAS800 Industrail endoscope MVD series and other precision measurement tools such as roughness gauge, thickness gauge and hardness tester. Many customers also brought samples on the spot to consult testing methods. With the assistance of local professional UT agents, users are impressed with our non-destructive testing products and non-destructive testing technology. Visitors from the Samsung Group, local welding manufactures, and quality control personnel are among the visitors who expressed great interest.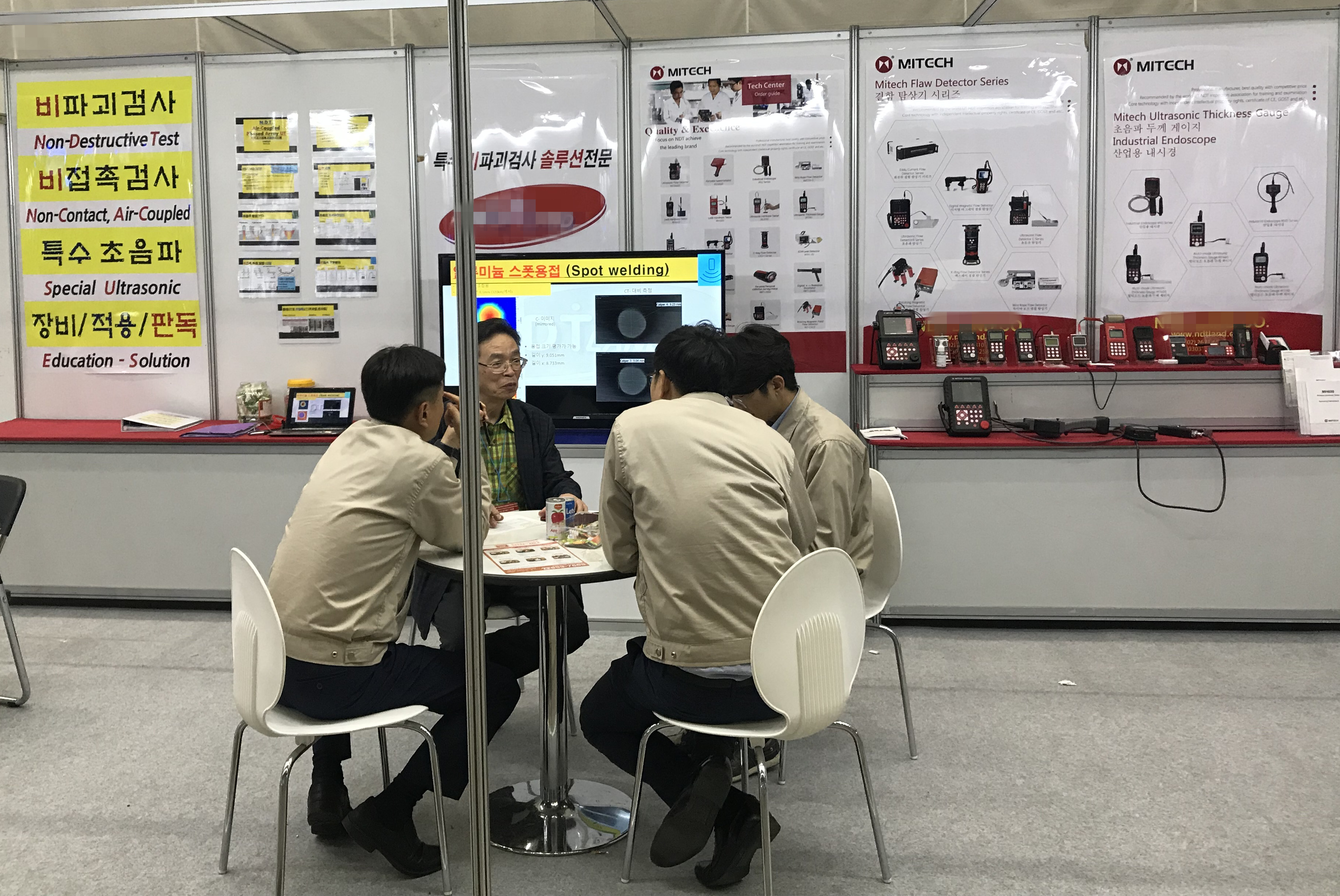 The successful cooperation exhibition, Mitech Science and Technology International Division provide professional technical services to market protection support for the overseas' agents, won the trust of local agents, for the long-term cooperation between our company and the agents to lay a solid The foundation laid the seeds for the future promotion of Mitech NDT products in Korea. Thanks to the sincere invitation from our agents and strong support and cooperation in the local area. This will be the driving force behind Mitech's contribution to the world's non-destructive testing business.